Accessible Shower Pan
If you are renovating for the future and plan to stay in your home as you age, you can remove the bathtub and install a roll in shower pan.
Designed to fit the same framing pocket as the bathtub, the Freedom Accessible Shower bases have a wheelchair accessible shower threshold, slip resistant floor and an end drain design option to match your existing plumbing.
The Freedom shower base is easy to install, and backed with a 30 year warranty.
Replacing bathtubs with shower pan?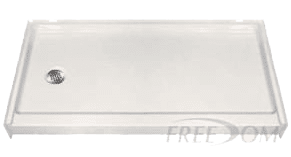 Replacing your bathtub has never been easier. These sizes are available with an end drain configuration, so you shouldn't have to move your plumbing.
• 54" x 31" Left or right drain
• 54" x 36" Left or right drain
• 60" x 31" Left, right or center drain
• 60" x 33" Left, right or center drain
• 60" x 37" Left, right or center drain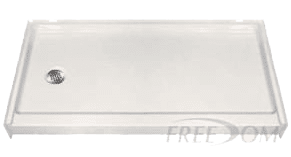 Easy Step Shower Pan
Converting a bathtub to a stand up shower
Your lifestyle has changed and you no longer use the bathtub for soaking, but you don't need a barrier free shower anytime soon.
The Freedom Easy Step Shower pans have a low step-over curb, which is much easier to get in and out of than a bathtub.
The 3" to 5" curb can accommodate a shower door.
The Freedom Easy Step shower pans are fast and easy to install, so you can move onto custom tiling the walls as soon as possible.
Also available in solid surface granite colors to create a designer bathroom
Easy Step Pan sizes available:
• 48" x 37", center drain, 3" curb
• 60" x 31", left or right drain, 4" curb
• 60" x 33", left or right drain, 4" curb
• 60" x 37", center drain, 5" curb
• 60" x 37" with molded seat, center drain, 5" curb
• 60" x 43" center drain, 5" curb
Treat yourself
For an extra touch of luxury, Freedom shower pans are available in high-end natural Granite Colors, with a non-porous solid surface finish for added strength and durability. Find matching tiles to finish the walls to create a cohesive finished shower with a timeless natural look.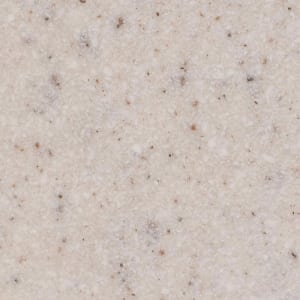 Cottonseed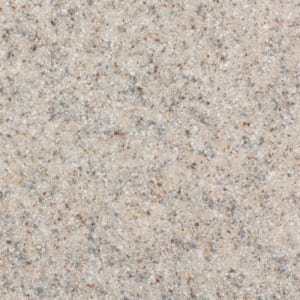 Quail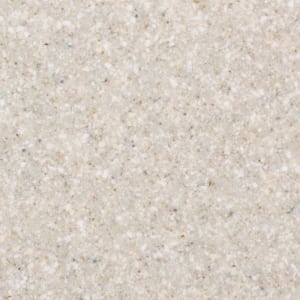 Rabbit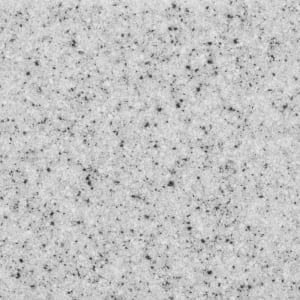 Starlight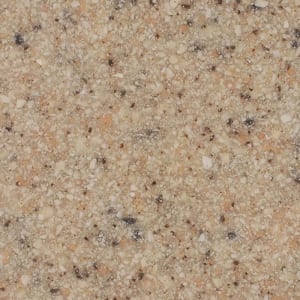 Beach
Ashley

Bone

Biscuit
Make it your own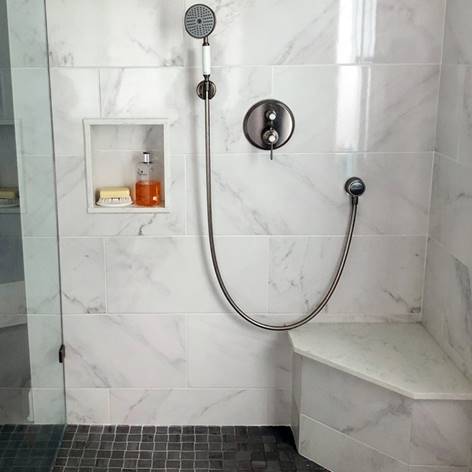 Complete your luxury shower with custom tile walls for a bathroom that you will love for many years. The white shower pans look great with subway tiles of any size. Add a soap niche with an accent color tile for a designer detail.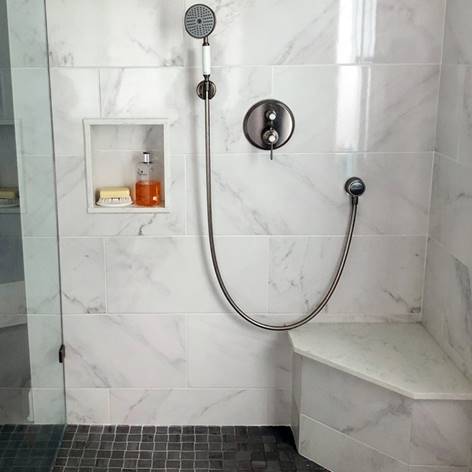 Tile Over Shower Pans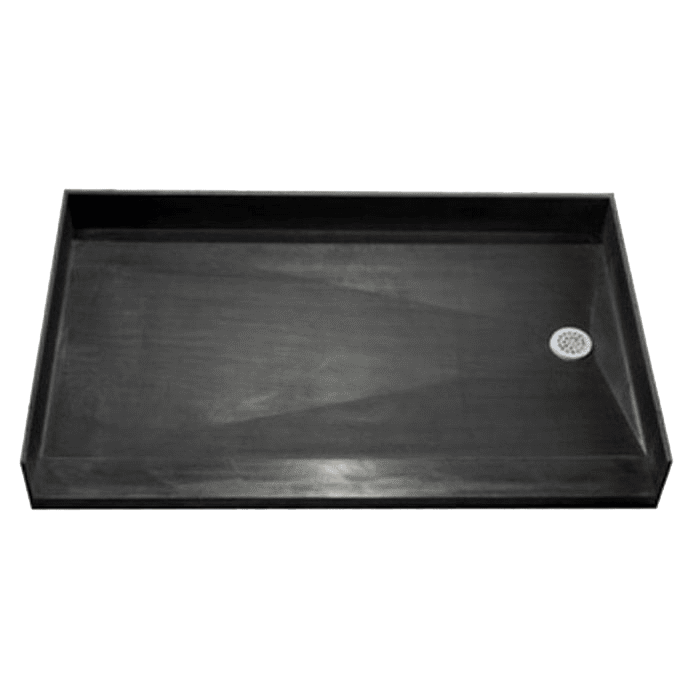 A complete custom tile shower can be a lot of work, but if you start with a pre-sloped tile ready shower pan, you can eliminate the most difficult part.
For curbed or barrier free shower pans tile ready bases will make your installation easier, eliminating the need for liners, mudding and hot mopping.
For a designer touch you can create a curbed or roll in shower pan with a trench drain, for the ultimate modern bathroom.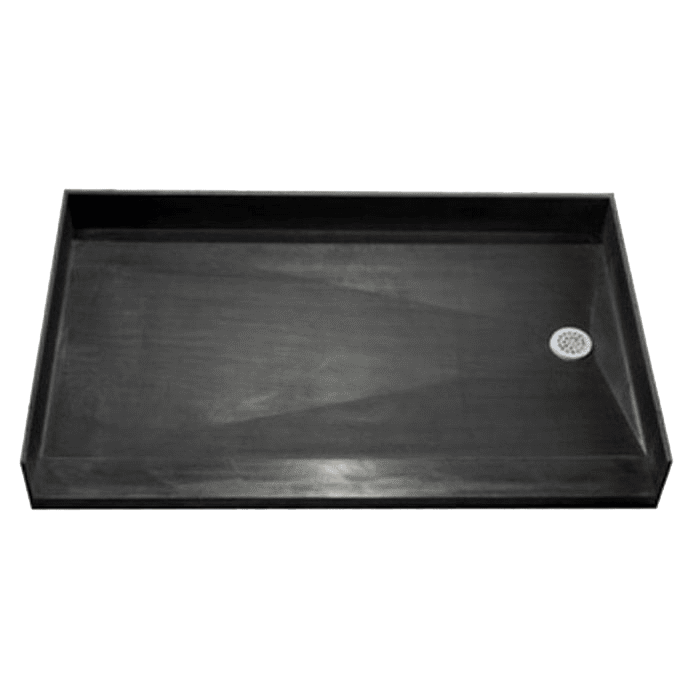 ADA Shower Pans
How to create ADA compliant custom tile showers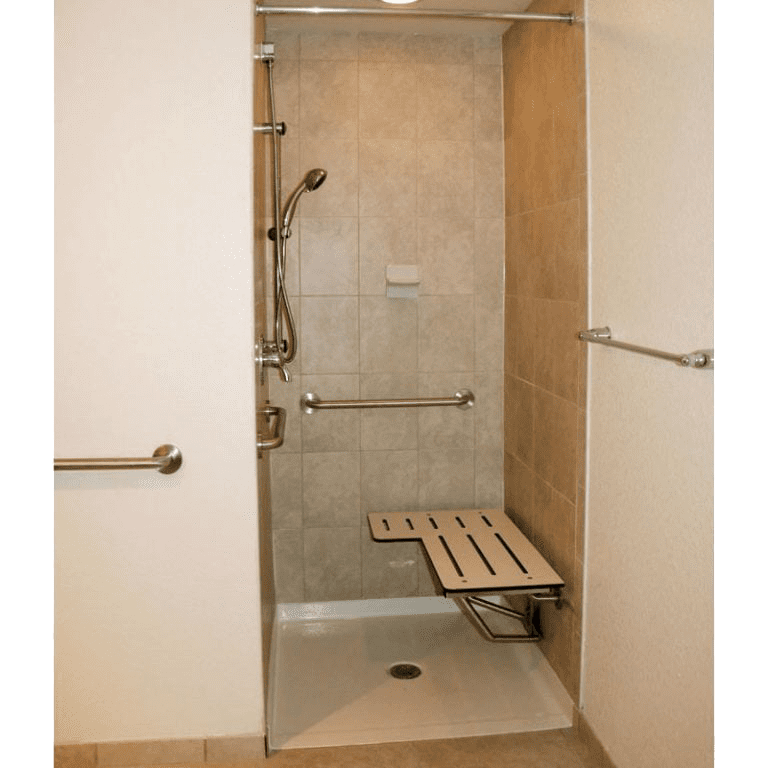 Building or renovating a commercial or public building? ADA Shower pans are used for commercial projects where ADAAG guidelines are a requirement.
We believe that ADA compliant showers can be just as beautiful as custom tile showers in lavish homes.
Use a Freedom ADA shower base and custom tile
the walls to create a high-end, designer bathroom.
Finish the project with our ADA compliant shower accessories, like folding shower seats, grab bars, and height adjustable shower kits.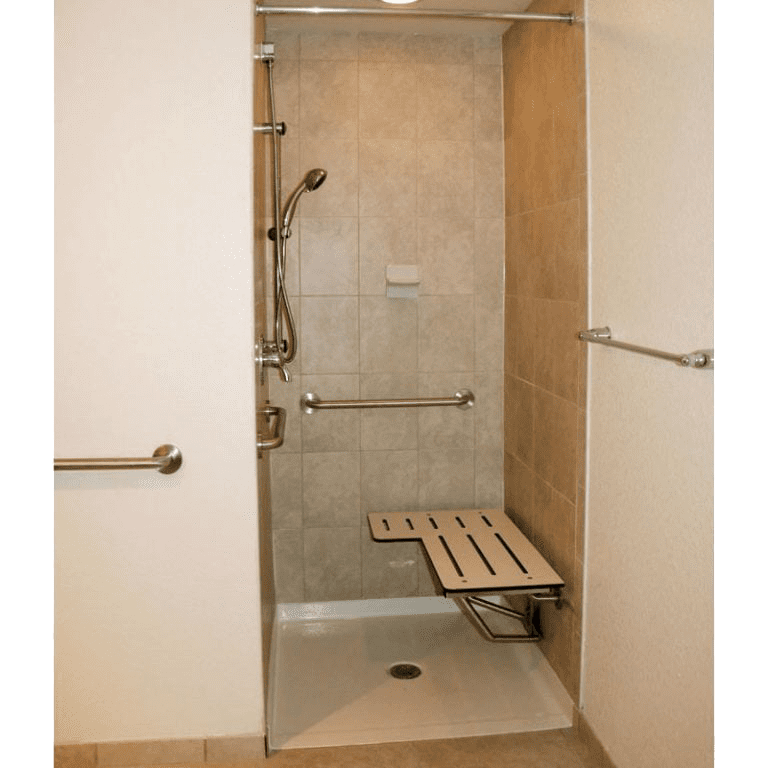 ADA Shower Pan Requirements: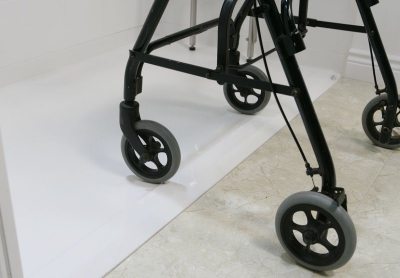 ADA Transfer Shower pans need an inside dimension of 36" x 36", and the threshold can be no higher than ½" above the finished bathroom floor.
ADA Roll in Shower pans need a minimum inside dimension of 60" x 30" and the threshold can be no higher than ½" above the finished bathroom floor.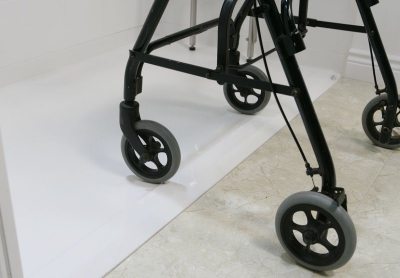 What is ADA?
ADA stands for Americans with Disabilities Act, a civil rights law that prohibits discrimination based on disability.
Public accommodations and commercial facilities in the USA, need to be fully compliant the Americans with Disabilities Act Accessibility Guidelines ADAAG.
The guidelines outline minimum requirements to make facilities accessible to and usable by individuals with disabilities.
Chapter 6 of the ADAAG deals specifically with Plumbing elements and facilities where you will find the requirements for ADA showers.
ADA Shower models include both ADA transfer showers and ADA roll in showers.
ADA Accessibility Guidelines for Buildings and Facilities (ADAAG) Section 608 for Shower Stalls can be found at: https://www.ada.gov/regs2010/2010ADAStandards/2010ADAstandards.htm#c6