ADA & Accessible Shower Bases
ADAAG guidelines offer specifications for access to bathrooms, in places of public accommodation and commercial facilities, by individuals with disabilities. This page provides information on both ADA (commercial) and Accessible (residential) shower pans.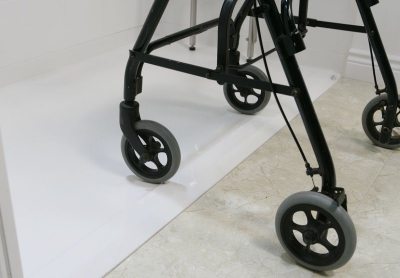 ADA Showers are 'curbless' or have a maximum 1/2″ beveled curb. Accessible Showers are also designed to be curbless or have a bevelled threshold.
Wheelchair accessible showers allows disabled individuals and people of all abilities to enjoy a safe and comfortable bathing experience.
ADA compliant and Accessible Shower Pans have slip resistant self-supporting pre-levelled bottom.
This allows you to do snap in
style installation without any mud setting, greatly reducing installation time and errors.
All of our handicapped accessible shower pans feature ultra-low thresholds for easy access for disabled individuals and seniors as well as people of all ages and abilities.
ADA & Accessible Shower Bases
See more details:
FreedomShowers.com

A barrier free shower pan can be combined with ceramic tile walls for a beautiful custom accessible shower.
We offer a variety of sizes, colors and threshold styles to accommodate your individual needs.
The Accessible and ADA bases are also available as complete wheelchair shower stalls for stylish barrier free bathrooms for commercial, residential and assisted living, see
ADA showers
and
Accessible showers

In general, ADA Shower Bases are used for commercial projects where ADAAG guidelines are a requirement. Accessible Shower Bases are for ideal for residential projects.
For your convenience we have organized our bathroom shower pans into ADA and Accessible categories.
Most shower pans ship from factory in 3 or 5 days, depending on model type.
ADA Compliant Shower Pans
Accessible Residential Shower Pans
You can shower in your own barrier free shower….
Prices from $427 USD for Accessible and ADA Shower Pans
Prices do not include accessories, shipping or installation.
All fiberglass shower pans are standard white and available in biscuit and bone.
Freedom shower pans (models starting with APF) are available in high performance solid surface, one of the most versatile materials offered for bathware. This durable and non-porous surface is resistant to stains, mildew and bacteria.
Freedom shower pans
Natural Granite Colors perfectly integrate to create the illusion of a single, solid granite style surface.
Series A shower pans have a wide assortment of color options, see at Series A Acrylic Pan Colors.
CAUTION: All computer monitors display colors differently and it is advisable to use American Standard and Kohler color samples for matching reference.
Accessible and ADA showers are also available with complete snap in wall surround kits, which feature many colors and styles see ADA showers and Accessible Showers.

Call 1-877-947-7769
Call now to speak with a customer service representative.
Email us at [email protected]
In addition to our barrier free Accessible and ADA Shower Pans we also offer
Easy Step Shower Pans which have a low 3″ or 4″ threshold making it easy to step over.
These shower bases also feature a pre-levelled and self-supporting bottom eliminating the need for
mud-setting, simplifying your installation and reducing your labor time.
Easy Step Residential Shower Pans
What is ADA?
The American Disabilities Act resulted in ADA standards and guidelines for accessibility to places of public accomodation and commercial facilities by individuals with disablilities.
ADA Shower models include both ADA transfer showers and ADA roll in showers. Transfer showers are smaller, with a minimum inside dimension of 36″ x 36″. They also offer curb free access, however an individual must transfer into the shower from a wheelchair outside the shower, as the shower is too narrow to roll into. ADA wheelchair roll in showers specify a minimum 60″ x 30″ inside dimension.
ADA Accessibility Guidelines for Buildings and Facilities (ADAAG) Section 608 for Shower Stalls can be found at: http://www.ada.gov/regs2010/2010ADAStandards/2010ADAstandards.htm#c6
Accessible Showers offer the same easy access and accessories as ADA showers, however they are designed to fit in standard residential bathroom framing pockets, such as the the standard 5 ft tub/shower found in many North American homes.
Call 1-877-947-7769 to be Showering in your own curb free shower.
The Accessibility Professionals team has assisted many people and organizations to transform their bathrooms, making them easier to use.
Enjoying bathing in comfort in your own ADA shower…

Call 1-877-947-7769
Call now to speak with a customer service representative.
Accessible and ADA compliant Shower Bases come with a minimum on defects on the fiberglass shell.
Shower units meet UL and CSA standards for safety and have been tested to meet industry fire rating standards.
Designed and manufactured in compliance with the following standards and codes:
– A.N.S.I. Z124.2 Standards for Plastic Showers
– I.P.C. International Plumbing Code
– U.P.C. Uniform Plumbing Code

Call 1-877-947-7769
© 2018 [email protected] | Privacy Policy
Call Us Toll Free: 1-877-947-7769